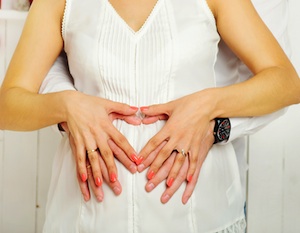 • Treatment for recurrent miscarriage
• Donor oocyte (egg) program
• Donor sperm program
• Egg cryopreservation
• Embryo cryopreservation
• Gestational carrier (host uterus) program
• Agencies, Lawyers, Psychologists
Minimally Invasive Gynecologic Surgery (MIGS)
In some cases, surgical procedures may be helpful, and necessary, to resolve conditions that make it difficult to achieve pregnancy. Our surgeons have extensive training in advanced minimally invasive surgical techniques.  Dr. Miller is the Past President of the AAGL, the world's largest society of physicians focused on minimally invasive gynecologic surgery, and the immediate past president of the International Society for for Gynecologic Endoscopy (ISGE).
Gynecologic Endoscopy (ISGE)
Dr. Cholkeri- Singh completed her fellowship in Minimally Invasive Gynecologic Surgery through Harvard University Medical School.  She is considered an international expert in this field. 
Laparoscopic Treatment for:
Endometriosis
Ovarian cysts
Uterine fibroids
Tubal re-anastomosis
Adhesions
Hysteroscopic Treatment for:
Uterine fibroids
Adhesions
Uterine septum
Polyps of the endometrium (inner lining of the uterus)
Treatment of Recurrent Miscarriages
Unfortunately many pregnancies end in miscarriage.  Usually this is a random event caused by abnormal egg or sperm. At the Advanced IVF Institute, we have developed particular expertise in the area of diagnosis and treatment of recurrent pregnancy failure.  This includes identification and treatment directed toward genetic abnormalities, infection, autoimmune disorders, thrombophilia concerns, uterine abnormalities occurring from birth or acquired, or hormonal imbalances.  Diagnosis and subsequent treatment enables the vast majority of couples to a successful delivery.
Donor Oocyte (Egg) Program
When a woman is incapable of producing quality eggs (ovum) to allow for a successful pregnancy, either secondary to age or a disease process, another woman's eggs can be extracted. Then utilizing IVF or ICSI the fertilized embryos can then be subsequently transferred back to the recipient to enable pregnancy success.
In order to provide multiple options for the infertile couple, The Advanced IVF Institute, Dr. Charles E. Miller & Associates work with Multiple Donor Egg Agencies
Donor Sperm Program
When sperm quality will not allow pregnancy to be achieved, or there is no source of sperm, donor sperm is a viable option.  Our center uses multiple certified sperm banks enabling donor sperm to be used with both insemination (IUI) and Intercyotoplasmic Sperm Injection (ICSI)
Gestational Carrier
When a women's uterus is incapable of allowing successful embryo implantation to be achieved, secondly to structural concerns, a gestational carrier may be recommended.  Genetically the child will be that of the infertile woman, as the eggs used are hers.  The pregnancy will be carried and subsequent delivery will be through the gestational carrier.
Donor Oocyte and Gestational Carrier Agencies
Alternative Reproduction Resources (ARR) 773-327-7315 – Egg Donors & Gest. Carriers
Center for Egg Options (CEO) 847-656-8733 7315 – Egg Donors & Gest. Carriers
ConcieveAbilities 773-868-3971 7315 – Egg Donors & Gest. Carriers
Family Source 815-725-7474 7315 – Egg Donors & Gest. Carriers
Graceful Conception 847-234-9606 7315 – Egg Donors
Donor Sperm
California Cryobank – 866-927-9622 –cryobank.com
Fairfax Cryobank 800-338-8407– fairfaxcryobank.com
Cryogenic Laboratories 651-489-8000—cryolab.com
Reproductive Lawyers
Marcy Miller 312-673-5312
Nidhi Desai 312-673-5312
Julie Tavoso 312-214-3546
Betty Muisberger 312-944-5555
Karen Spence 847-955-0350
Psychologists
Lisa Busch, Ph.D. *Recipients ONLY*  630-753-9800            Naperville, IL
Marlee Hasson, LCSW 847-390-0247                          Park Ridge, IL
Ellen Diamond, Psy.D. 847-433-3815                          Highland Park, IL
Jan Nussbaum, Ph.D. 312-642-4772                             Chicago, IL
Silvia Schneider, M.D. 773-880-1311                             Chicago, IL
Mara Tesler Stein, Psy.D. 773-338-2980                      Chicago, IL
Embryo Cryopreservation
Often times, extra embryos are successfully fertilized and thrive during the IVF/ICSI process.  These excess embryos can be frozen (cryopreserved) for use at a later time.  A comedian at heart, one of our former patients nicknamed her children "Fresh & Frozen".  We take great pride in our embryo crypreservation program as our subsequent pregnancy rates are truly world class.
Egg Cryopreservation
One of our newest and successful programs at the Advanced IVF Institute, Charles E. Miller MD & Associates is the performance of Egg Cryopreservation.  This program is geared towards women not yet ready to actively pursue pregnancy, but who wish to store their eggs at a younger age, when quality is best.  Egg cryopreservation is also worthwhile in a woman at greater risk of ovarian disease (previous ovarian cysts, endometriosis) or oncologic (cancer) concerns.  In this case the disease process or even the corrective surgery may have a negative effect on egg production.